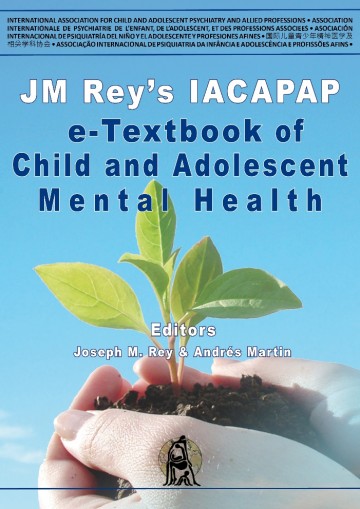 e-Textbook of Child and Adolescent Mental Health
A work that rivals standard textbooks in scope; takes full advantage of its online format to include an array of color pictures, graphics, and video links; and gives voice to a medley of specialists, patients, and commentators from Amsterdam to Ankara, Beijing to Berlin...
---
Journal of the American Academy of Child & Adolescent Psychiatry
Each chapter is scholarly written, clinically oriented and of immense relevance to the practice of child and adolescent mental health... Some striking features set this work apart from traditional textbooks.
---
Australasian Psychiatry
The intention [...] to develop a high-quality, innovative, didactic textbook of child & infant mental health and to reach various countries of the world is well fulfilled...
---
American Journal of Psychiatry
The textbook stands out from established e-books and textbooks, first of all because of the free availability combined with the high quality of content. The modular nature, which allows downloading chapter by chapter, easy addition of new chapters, and continuous updating of the contents as well as the implementation of readers' suggestions, is outstanding.
---
Child and Adolescent Psychiatry and Mental Health
NOTE: chapters in different languages may vary slightly in content because the core materials of the Textbook, which are initially published in English, are updated continuously. For logistic reasons, translations to other languages are not updated at the same time but only when resources are available. Not all chapters are available in all languages for the same reason
Editors: Joseph M. Rey, MD, PhD, FRANZCP & Andrés Martin MD, MPH
Editorial Advisory Board
Thomas M Achenbach, PhD
Daniel Fung, MD
Olayinka Omigbodun, MBBS, MPH, FMCPsych, FWACP
Luis A Rohde, MD
Chiara Servili, MD, MPH
Garry Walter, MD, PhD, FRANZCP
Associate Editors
Priti Arun (version in Hindi)
Julie Chilton MD
David Cohen MD, PhD (version in French)
Flávio Dias Silva MD, MSc (version in Portuguese)
Priscille Gerardin MD, PhD (version in French)
Ioanna Giannopoulou MD, PhD (version in Greek)
Hesham Hamoda MD, MPH (version in Arabic)
Nguyen Thi Hue MD (version in Vietnamese)
Takahiko Inagaki MD (version in Japanese)
Matías Irarrázaval MD, MPH (version in Spanish)
Konstantinos Kotsis MD, MSc, MHCM, PhD (version in Greek)
Jing Liu, MD
Daniel Martínez Uribe (version in Spanish)
Dmytro Martsenkovskyi MD (version in Russian)
Suaad Moussa (version in Arabic)
Cesar Soutullo, MD, PhD
Paz Toren MD,MHA (version in Hebrew)
Florian Daniel Zepf, MD
The opinions expressed are those of the authors and do not necessarily represent the views of the Editors or of IACAPAP.
This publication seeks to describe the best treatments and practices based on the scientific evidence available at the time of writing as evaluated by the authors and may change as a result of new research findings. Readers need to apply this knowledge to patients in accordance with the guidelines and laws of their country of practice. Some medications may not be available in some countries and readers should consult information about the specific drug since not all dosages and unwanted effects are mentioned.
Organizations, publications and websites are cited or linked to illustrate issues or as a source of further information. This does not mean that authors, the editors or IACAPAP endorse their content or recommendations, which should be critically assessed by the reader. Websites may also change or cease to exist.
©IACAPAP 2019. This is an open-access publication under the Creative Commons Attribution Non-commercial License. Use, distribution and reproduction in any medium are allowed without prior permission provided the original work is properly cited and the use is non-commercial.
Suggested citation: JM Rey's IACAPAP e-Textbook of Child and Adolescent Mental Health. Rey JM & Martin A (eds). Geneva: International Association for Child and Adolescent Psychiatry and Allied Professions, 2019