The Elementary Mental Health Literacy Curriculum Resource: A Canadian Initiative with International Relevance
Put your news message here
By: Andrew Baxter, MSW RSW, Kyla Vieweger, MSW RSW CPT, Dr Yifeng Wei, MA, PhD, Deb Nunziata, M.Ed, R.Psych
Over the past year, the team at teenmentalhealth.org/Alberta Health Services has been working on the creation of The Elementary Mental Health Literacy Curriculum Resource (EMHLCR). We know that early intervention with mental health is key, and while our previous materials have primarily focused on youth, we realized we could start even earlier to reach students and teachers in younger grades. In 2019, we were awarded funding for the development of Mental Health Literacy materials for elementary-aged students specifically.
The development of the resource is scheduled to take place over the next three years, including field testing and dissemination. The EMHLCR aims to be the first of its kind: an evidence-based, classroom-ready resource designed for Grades 4-6 classroom educators to teach students about mental health and mental illness. Once developed, the EMHLCR will be available for use across Alberta and around the world.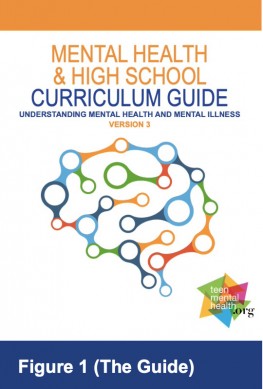 The conceptual framework of the EMHLCR is drawn on an existing evidence-based mental health curriculum resource for the secondary school setting, Mental Health & High School Curriculum Guide (The Guide) (http://teenmentalhealth.org/product/mental-health-high- school-curriculum/). The High School Guide has been extensively implemented and researched in Canada and internationally [1].
The EMHLCR writing team started with a literature review of 690 peer-reviewed articles and an environmental scan of over 570 websites to best inform the content and structure of the resource. Then, we conducted a Delphi survey involving 106 stakeholders (classroom teachers, school mental health professionals such as counsellors, psychologists, psychiatrists, social workers, school administrators, special education experts, and curriculum design experts) from the 13 provinces and territories across Canada as well as professionals from other countries (Japan, the United Kingdom, Finland, and the United States of America). Additionally, the EMHLCR writing team established a committee of dedicated educational leaders and mental health professionals across Alberta, to further inform the development of the elementary resource. We have been meeting regularly with this committee since the inception of the project.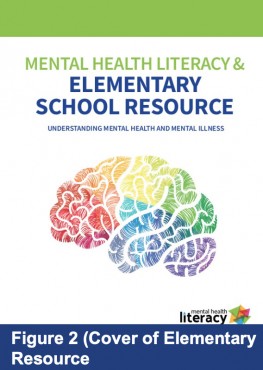 Next steps for the team will include the development of classroom ready lessons, in collaboration with curricular experts, based on the framework. Multimedia resources will also be created to convey the central messages to student Analogous to its High School counterpart (The Guide), the EMHLCR resource will aim to be flexible enough for teachers to adapt the lessons to their students' needs, school culture and curricular requirements, while still addressing the key concepts central to mental health literacy [2].
The EMHLCR aims to help students:
develop skills to obtain and maintain good mental health,
improve understanding of mental health and mental/neurodevelopmental disorders,
reduce stigma against mental/neurodevelopmental disorders, and
promote help-seeking intentions and behaviours when it is necessary
Field testing in year three of the project will provide feedback from educators, further honing the resource. Pre and post measures will be used to ensure improvements in knowledge and attitudes regarding mental health and mental illness. A website will be developed to host the materials and provide professional development for educators to assist with classroom delivery. The final year will focus on scale up, dissemination and implementation of the resource.
For more information about the Elementary Mental Health Literacy Curriculum Resource, or any of our other resources, please contact us through teenmentalhealth.org.
References:
Milin, R., Kutcher, S., Lewis, S., Walker, S., Wei, Y., Ferrill, N., & Armstrong, M. (2016). Impact of a mental health curriculum on knowledge and stigma among high school students: a randomized controlled trial. Journal of American Academy of Child and Adolescent Psychiatry, 55(5), 383-391. DOI: 10.1016/j.jaac.2016.02.018.
Kutcher, S., Wei, Y., & Coniglio, C. (2016). Mental health literacy: past, present, and future. Canadian Journal of Psychiatry, 61(3),154-158. DOI: 10.1177/0706743715616609.